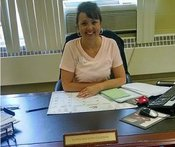 It is my pleasure to welcome you to Genesis School. We serve as Conecuh County's Alternative School. For many reasons, students, parents, home school administrators, or local board members may choose a non-traditional setting for students. Our program addresses many needs. Currently, Genesis is a 90 day program. Our program is designed to help students improve their behavior or academic skills and then return to their home school.
Currently, we use A+ny Where Learning System ( A PLUS) for grades 5th and 6th. A PLUS is a series of comprehensive assessments that test students in five core curricular subject areas – Mathematics, Literature and the Arts, Writing, Science, and Social Sciences. Pretests pinpoint individual student skill deficiencies and automatically assign lessons that teach those skills. After students progress through the self-paced lesson material, post-tests measure and record academic gains, indicating whether students have displayed mastery of the lesson material. The A+LS courseware uses the proven instructional format of study, practice test, mastery test, and essay (or constructed response) to prepare students for the recovery of course credit or the prevention of course failure.
Our high school students take classes through ACCESS. ACCESS is an on-line academic program available to all Alabama public high school students. This on-line program provides equal access to quality instruction with through Web-based and Interactive Videoconferencing (IVC) courses taught by Alabama-certified and highly-qualified teachers.
We also currently house the Conecuh Virtual School, an online program available to students of all ages in Alabama. These students take all of their coursework online while still participating in school activities. If you're interested in Conecuh Virtual School, contact us today!
We have a highly qualified staff at Genesis. I am very proud of the staff and always confident of their performance and know the results will benefit our students. Together, we are piecing the future together to produce healthy, happy, and educated citizens.
Sincerely,
Susan Brewton-Coleman
susan.coleman@conecuhk12.com
(251) 578-5291