The Conecuh County Board of Education is proud to offer a fan bus (school bus) to the Semifinals Football Game (Hillcrest vs Bayside) on November 27, 2015. The cost of the fan bus will be $8.00 per person (admission tickets not included). Please click on the survey link below.
Please note- a specific number of requests must gathered in order to determine if a fan bus is necessary.
Click to see Conecuh County Schools' Fall 2015 Newsletter!
---
State-Wide Virtual School Sponsored by Fuel Education and the Conecuh County Board of Education! Click here for more info.
---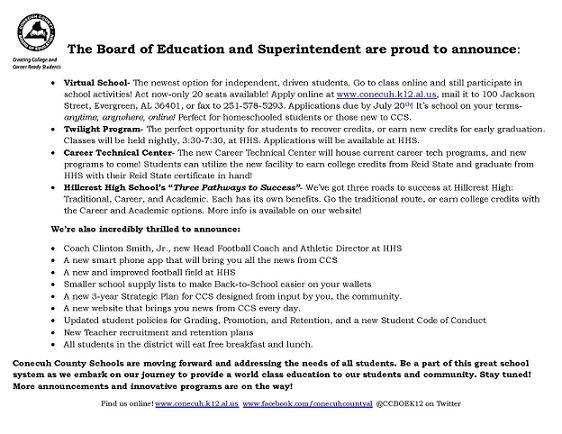 ---
Welcome to the Conecuh County Schools website. Whether you are a parent, teacher, student, an alumnus or are simply curious about the opportunities and programs in our school system, this site has been created with you in mind. This website reflects our core values and goals for the Conecuh County School System: academic, artistic, and athletic excellence for all students.
Here you will find up-to-date information about each school within our system, school policies, school contacts, accreditation, student services, and human resource information.
Please accept our invitation to explore the Conecuh County Schools through our website and to visit our schools in Conecuh County, Alabama.
You will discover that our schools offer a strong and safe education for all students and will find evidence that teaching and learning are top priorities.