Special Called meeting of the Board of Education will be Wednesday, August 5th at 12:00 PM at 208 Martin Street. Public is invited.
---
Technology Teacher Vacancy at Evergreen Elementary as of 08/03/15. Click for details.
---
CCS Employees: See this link for information on CareerSafe PLUs.
---
Conecuh County's official Uniform Policy for 2015-2016 can be found here.
---
Still haven't applied for Virtual School? What are you waiting for? You've got until July 20th to apply. Check out our online form here:http://goo.gl/forms/ZNMAK1CO0o
---
Come see what's new at CCS! We're getting ready to begin Virtual School, The Twilight Program, and a new Career Tech center!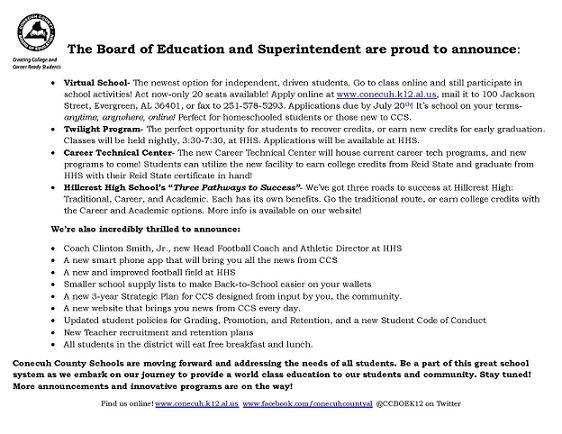 ---
Looking for our smartphone app? In your Android or iOS app store, search "ConecuhK12", and download it today! The app will display as a green icon with our county seal.
If you're viewing this on your phone, tap here for the iOS app, and here for the Android app.
---
Welcome to the Conecuh County Schools website. Whether you are a parent, teacher, student, an alumnus or are simply curious about the opportunities and programs in our school system, this site has been created with you in mind. This website reflects our core values and goals for the Conecuh County School System: academic, artistic, and athletic excellence for all students.
Here you will find up-to-date information about each school within our system, school policies, school contacts, accreditation, student services, and human resource information.
Please accept our invitation to explore the Conecuh County Schools through our website and to visit our schools in Conecuh County, Alabama.
You will discover that our schools offer a strong and safe education for all students and will find evidence that teaching and learning are top priorities.