Employment opportunities have been posted to our Employment (Categorized) page. Go take a look!
---
The CNP Department of CCBOE announces Summer Feeding locations. (More information here.)
---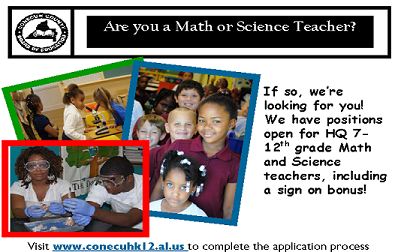 Conecuh County is looking for HQ Math and Science Teachers! We are offering a $6000 signing bonus for these positions!
More info on this opportunity here!
---
Welcome to the Conecuh County Schools website. Whether you are a parent, teacher, student, an alumnus or are simply curious about the opportunities and programs in our school system, this site has been created with you in mind. This website reflects our core values and goals for the Conecuh County School System: academic, artistic, and athletic excellence for all students.
Here you will find up-to-date information about each school within our system, school policies, school contacts, accreditation, student services, and human resource information.
Please accept our invitation to explore the Conecuh County Schools through our website and to visit our schools in Conecuh County, Alabama.
You will discover that our schools offer a strong and safe education for all students and will find evidence that teaching and learning are top priorities.